Meredith Michaels Beerbaum se confie aux lecteurs et aux "internautes" du Cavalier Romand: sa préparation pour la grande finale de Leipzig et ses espoirs...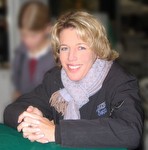 Pour la troisième fois de la saison indoor,
Meredith Michaels Beerbaum (portrait)
se confie à vous, par le biais de ce site. Cet hiver, la triple gagnante de la Rolex FEI World Cup et double triomphatrice du Top 10 mondial a passé six semaines en Californie, tout près d'où elle avait passé son enfance et elle a brillé tant avec Lancaster, 1er d'un Grand Prix le jour du premier anniversaire de Brianne Victoria - qui était du voyage -, qu'avec sa prometteuse Kismet, 3e d'un GP Coupe du monde. De là, Meredith a fait un aller-et- retour de 24 h à Brême pour préparer Shutterfly et Checkmate en vue de Doha (Qatar), où elle allait prendre la 3e place du GCT avec le premier. Checkmate est en forme aussi et Meredith se réjouit de la finale de Leipzig, elle qui, blessée quelques jours auparavant, n'avait pu monter celle de 2002 organisée là-bas. Meredith apprécie les parcours de Frank Rothenberger, mais imagine bien devoir sauter quelques obstacles énormes... Ensuite, début mai, il y aura le GCT à Valence, où elle espère monter Shutterfly (18 ans), tout en espérant que l'un de ses jeunes chevaux aie "un peu de Shutterfly en lui".
Meredith Michaels-Beerbaum is writing a diary for cavalier-romand.ch to mark her return to the Rolex FEI World Cup™ Jumping season. Here is Meredith's final entry…
California 2011…
I had a wonderful time spending the last six weeks in California, not far from where I grew up. I brought some young horses with me and showed at the HITS shows in Thermal. I could ride my Kaanan mare, Kismet, in the World Cup (WC) qualifiers and the Grands Prix. She was clear in nearly every round and won many good ribbons, including a third place in a WC qualifier and a fourth place in the $200,000 Grand Prix. I also rode my gelding, Lancaster, in the Grands Prix where he was able to win one Grand Prix and be second in another. These two horses are my up-and-coming stars of the future; my mare Oak Grove's Beirut also made great strides forward. But a highlight was also the quality time I was able to spend with my family and friends. Markus was there busy training some promising young riders. And of course, my pride and joy, my daughter, Brianne Victoria, was also with me. We had a great time celebrating her first birthday, which I could top off with a Grand Prix win on the same day.
It's been 20 years since I rode in California, and I didn't know how people would react to me returning. I was overjoyed to receive an incredibly warm welcome and a "welcome home" from the people there.
In the middle of the circuit I flew back to Germany for two days to give the old guys (Shutterfly and Checkmate) some training ahead of the Global Champions Tour (GCT) leg in Doha. This interim trip was terrible. Not just because of two 11-hour flights and jet lag, but because I got stuck in San Francisco airport for 12 hours! However, it was essential because my plan was to fly directly to Doha from California at the end of the circuit. I needed to ride Shutterfly and Checkmate to keep them in form since I wouldn't have ridden them in six weeks. I can't explain how delighted I was when the plan paid off. Shutterfly was third in the GCT Grand Prix in Doha, and Checkmate was clear, a week later, in the World Cups in 's-Hertogenbosch. I owe a lot of credit to my groom/rider, Anu, who kept these two horses in beautiful shape while I was gone.
's-Hertogenbosch…
As I mentioned, I was very happy with Checkmate in the last WC qualifier. He showed super form, especially in the first round where he jumped brilliantly. I was having an incredible round in the jump-off as well, riding to win… but at the penultimate fence, when I tried to take a really short turn, Checkmate ducked out. I don't think he really had his eye on the fence. I couldn't be too upset and actually consider it a small mistake. He was so close to winning the World Cup that I feel positive going into the Rolex FEI World Cup™ Final in Leipzig… I am excited for the challenge.
The Rolex FEI World Cup™ Final, Leipzig…
I've ridden in Leipzig, Germany, in many World Cup qualifiers over the years; however, I haven't competed at a Final there yet. In 2002, I was injured just a few days before the Final. I am sure that it will be a great event this year. The Leipzig Exhibition Centre is a fantastic facility.
It is extremely encouraging to see Germany so well represented this year. It is even more encouraging when looking at the number of ladies taking part – 11 out of 45 Finalists.
Frank Rothenberger is without doubt an excellent course designer, arguably one of the best course designers in the world. He is extremely well respected amongst the riding fraternity. He is definitely going to set a tough test. Whoever is crowned the 2011 Rolex FEI World Cup™ champion will absolutely deserve it. It will not be an easy feat! The ring is large and the ground fantastic, so I am sure we will see some enormous fences.
Plans after the Final…
Things will move very quickly after the Final with the Valencia leg of the Global Champions Tour from May 6-8. My plan is to use Shutterfly there. However, I will be careful with him because he is 18-years old now. I am grateful and appreciative of every time I get to ride and enjoy him. I am excited to bring along my younger, less experienced horses. Maybe one of them will have a little "Shutterfly" in them…
Meredith Michaels-Beerbaum, the renowned three-time World Cup Jumping champion, is a Rolex equestrian Testimonee
---