Meredith Michaels Beerbaum raconte son hiver, son périple aux Etats-Unis et sa préparation pour la finale de la Coupe du monde Rolex FEI de Leipzig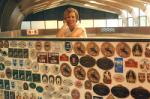 L'automne passé déjà,
Meredith Michaels Beerbaum (portrait)
avait raconté aux lecteurs du Cavalier Romand et aux habitués de notre site son parcours après la naissance de son adorable petite Brianne Victoria. Cette fois, la triple gagnante de la Rolex FEI World Cup nous parle de toute sa saison hivernale, des expériences vécues sur le circuit, notamment à Stuttgart et à Genève, où elle avait chaque fois brillé (après une victoire à Lyon et une 2e place à Vérone!) , puis son début d'année 2011, avec six semaines passées aux Etats-Unis, et notamment en Californie, sa terre d'origine. Pour fêter Noël là-bas et pour concourir. Maintenant, après une superbe 3e place à Doha avec Shutterfly et une prestation plus en demi-teinte ce week-end à den Bosch (15e avec Checkmate), Meredith se concentre sur la grande finale de Leipzig, sachant qu'elle a deux chevaux d'exception, à la longevité exceptionnelle. Bonne lecture à tous (rien de tel pour améliorer son anglais!).
Meredith Michaels-Beerbaum is writing a diary for www.cavalier-romand.ch to mark her return to the Rolex FEI World Cup™ Jumping season and prepare the Final. Here is Meredith's second entry…
Christmas 2010…
My daughter and I went to stay with my family in the USA for Christmas. In typical American fashion we had an enormous Christmas tree decorated with all sorts or ribbons, balls and lights. My daughter (Brianne Victoria) thought it was the greatest thing she had ever seen. I wasn't sure how much she would be able to appreciate Christmas because she is only 10 months old. But she loved all her presents, and, of course, all the attention!
Back in Germany, the winter snow that much of Europe had endured made things like travelling and getting the horses out of the stables a little bit inconvenient. But growing up in California, I didn't see much snow. So it is always a winter wonderland for me.
Flash back: Rolex FEI World Cup™ Jumping, Stuttgart and Geneva…
I was delighted with my Masters win with Shutterfly in Stuttgart 2010. I must add that it was his fifth Mercedes in a row in Stuttgart (three Grands Prix wins and two Masters!). It was just a great win considering that Shutterfly is now 18-years-old! It seems that he gets more birthday cards from fans than I do.
The Masters in Stuttgart was an outstanding event at such a traditional show. It has always been a very difficult class to qualify for making it that much more special. It was a great accomplishment to beat Marcus Ehning on his World Championship horse, Plot Blue, in front of a big crowd, in a very fast jump-off. The World Cup in Stuttgart didn't unfortunately go as well. But I still could go home with a new Mercedes!
In Geneva, I was happy with a fourth place finish on Shutterfly in the Rolex FEI World Cup™. It was another extremely fast jump-off with some of the best horses in the world including Olympic Champion, Hickstead. It made for a satisfying finish to my great year. It was my goal to qualify for the World Cup Final by the end of 2010, and this has helped to minimise the pressure on me going into 2011.
London 2012…
Germany's remarkable team win at the WEG means that the team is qualified for the London 2012 Olympics. But because the team isn't pre-selected, places on the team will be based entirely on merit and form over the coming year. So I have to keep performing. A goal of mine is to make the selection.
I also have to be realistic that my two best horses are getting a little old for that championship (London 2012). I have a young horse who shows tremendous potential and I hope she will develop accordingly. London 2012 is a long way away but it's my goal. An Olympic medal is the one thing missing from my resume. If my mare progresses like she has been doing, then I certainly think she could be a contender for London. Part of the sport is to develop young horses and that is my next task.
Shutterfly and Checkmate…
I've had my old guys (Shutterfly and Checkmate) going well this season which has made me so proud. To come back from Christmas vacation and find them both so fresh is enormously pleasing. Shutterfly and Checkmate's one-and-only groom, Anu, who has taken care of them for over 10 years, rode them over the Christmas holidays and kept me informed as to how they were doing. I came home and they were in great shape! It's been a rewarding accomplishment to keep these two wonderful horses going for so long.
Shutterfly, in particular, has really become a rock star! Crowds have given him standing ovations in Verona in the Rolex FEI World Cup™ and in Stuttgart for his win in the Masters. He's just had an incredible career which has spanned such a long period of time. I would quite happily call him show-jumping's best ever. I don't think there would be many who would disagree with that. As far as prize money is concerned, there are few that come in his near. His consistency, his ability, his quickness, and his wonderful attitude make him an exception in our sport. It's fun to bring him to shows and see how excited people are to see him. He's a celebrity. It's a great, great honour to be his rider. I am just filled with joy every time I get to ride him and enjoy him.
2011 shows and the Rolex FEI World Cup™ Final in Leipzig…
At my first show in 2011, in Basel, I have to admit that I felt a little rusty from my Christmas vacation. I was also excited to go to California to show for six weeks and prepare some of my younger horses for future events. This is the first time I have shown in my home state in over 20 years! I gave my old guys a well-deserved break, and then showed them at Doha (Shutterfly was third) and 's-Hertogenbosch to prepare for the Rolex FEI World Cup™ Final.
As far as the competition is concerned, Kevin Staut is in great form, along with Christian Ahlmann, Rolf-Göran Bengtsson, and the not-to-be-forgotten defending Rolex FEI World Cup™ Champion, Marcus Ehning. But there are so many great riders and horses at the moment that the race for the World Cup crown is wide open this year. It is shaping up to be a great competition and will certainly be interesting. I still feel the women riders are very strong and are constantly knocking on the door, aggravating our male colleagues! Pénélope (Leprevost) showed her strength at the WEG, and Jessica (Küerten) continues her great form, having had a impressive result in Mechelen with a win on one of her youngsters.
Markus and I are delighted to have a number of young students at the moment. That has given us a new focus for 2011 – to develop people who are the future of show jumping. Training provides us with an opportunity to give something back to this great sport.
Meredith Michaels-Beerbaum, the renowned three-time World Cup Jumping champion, is a Rolex equestrian Testimonee
---